Coworking spaces offer small businesses, independent contractors, and other workers a workspace with beautiful architecture, comprehensive amenities, and incredible benefits.
Discover the top advantages of coworking spaces that make them indispensable for people who work every day and can improve their business and overall mental health!
1. Increased productivity
Productivity is greatly improved for people who work from home. They no longer have to deal with the constant distractions that a home can offer, such as crying babies, tidying up the house, or simply the responsibilities that need to be accomplished.
The same goes for small business owners who work from a home office. By going to another space, you can solidify a way of working that can increase productivity.
Typically, coworking spaces combine multiple work environments to accommodate different work styles. It's easy to make progress in purpose-built spaces, while intangible elements such as background music and natural light and many others.
Many coworking spaces are accessible 24/7, so you don't have to worry about when you need to do something.
2. Networking and collaboration opportunities
The biggest difference between a traditional office and a shared office is the networking and collaboration opportunities that a coworking space offers. They also host networking events to help businesses find new partnerships or clients, brainstorming sessions with other like-minded businesses, and educational workshops.
One of the main benefits of a coworking space is the opportunity to connect with others. A small business sometimes only lacks the support that proximity to other successful entrepreneurs can provide.
Monthly networking events are an easy way to find new employees, and practicing your networking skills helps you turn those introductions into lasting relationships and even new business.
3. Flexibility
Coworking spaces offer people the ability to arrive and leave the office whenever they want. They can create office hours that best suit their schedule and their employer.
Plus, flexible contracts allow you to move at your own pace, without the pressure or rigidity of traditional long-term leases. For example, if for any reason you need to cancel your membership, there are usually flexible options for doing so.
In addition, built-in services such as reception and cleaning staff, printing services, Internet connectivity, and kitchen and bathroom facilities eliminate the overhead usually associated with opening your own office space.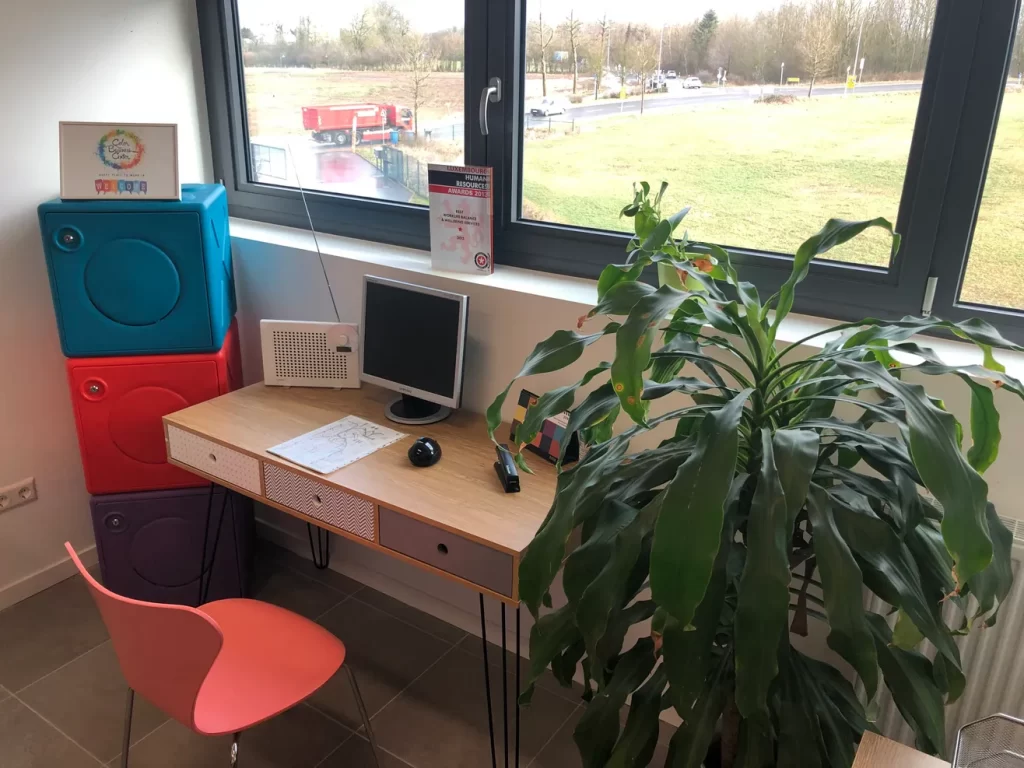 4. Improved creativity
By working with others and exposing yourself to new perspectives, coworking spaces can provide bursts of creativity. Changing work environments is a great way to refresh your head and exchanging ideas with others can boost creativity.
Along with design-inspired workspaces, creative community cultures, regular educational events, and perks like indoor gyms or playgrounds all encourage creativity and productivity.
5. Cost reduction
Coworking spaces only charge you for the space you plan to use and include exclusive perks, from cleaning staff to printing services, at no additional cost.
On the other hand, if you rent a private office, you face a host of additional costs, especially if your employees want perks like coffee, snacks, etc.
With a coworking office, there is no traditional lease and none of the hidden costs that come with it.
6. Wellness and work-life balance
Work-life balance is crucial to your mental health; there should be a separate space between your home and your office.
Theoretically, being self-employed allows you to have a better work-life balance. You won't have to punch a clock or follow someone else's idea of the best work hours. One of the benefits of coworking spaces is that they allow you to isolate work from your personal life, so you can easily switch between the two.
Many coworking spaces also offer wellness rooms for meditation, frequent community yoga sessions, and convenient on-site showers after a workout.
In conclusion, coworking spaces have modernized the familiar office environment, giving you the ability to work whenever and wherever you want. Once you experience the innovative and unique benefits of coworking spaces, you'll wonder how you survived without them for so long.
Trust us to help you find the perfect place where you can enjoy all the benefits of a coworking space.