With all the hype surrounding coworking spaces and the continued rise in their popularity, more and more people are wondering what exactly a coworking space is. So we decided to provide you everything you need to know about coworking spaces and the companies that use them.
1. What is a coworking space?
In the simplest sense, a coworking space is an environment designed to accommodate people from different companies who come to work independently on different projects, or in groups on the same projects.
This is different from a traditional workspace, as the people working in a coworking environment are not necessarily part of the same company.
Some will provide you with startup resources, like digital assets, or even coaches and advisors. Some may have printers and other technology that you may not have access to. They offer a convenient space for new remote workers to continue meeting and collaborating with colleagues without having to travel too far.
Cost is one of the main attractions. One of the benefits of these spaces is the ability to rent only what you need, instead of an entire private office space, which can be expensive.
2. Who uses coworking spaces?
Coworking spaces are highly sought after in the startup and freelance world. But the demographics of these spaces are changing.
They are no longer dominated by the classic startup and creative freelance model. Instead, modern coworking spaces are attracting a broad community, from small businesses to large global corporations.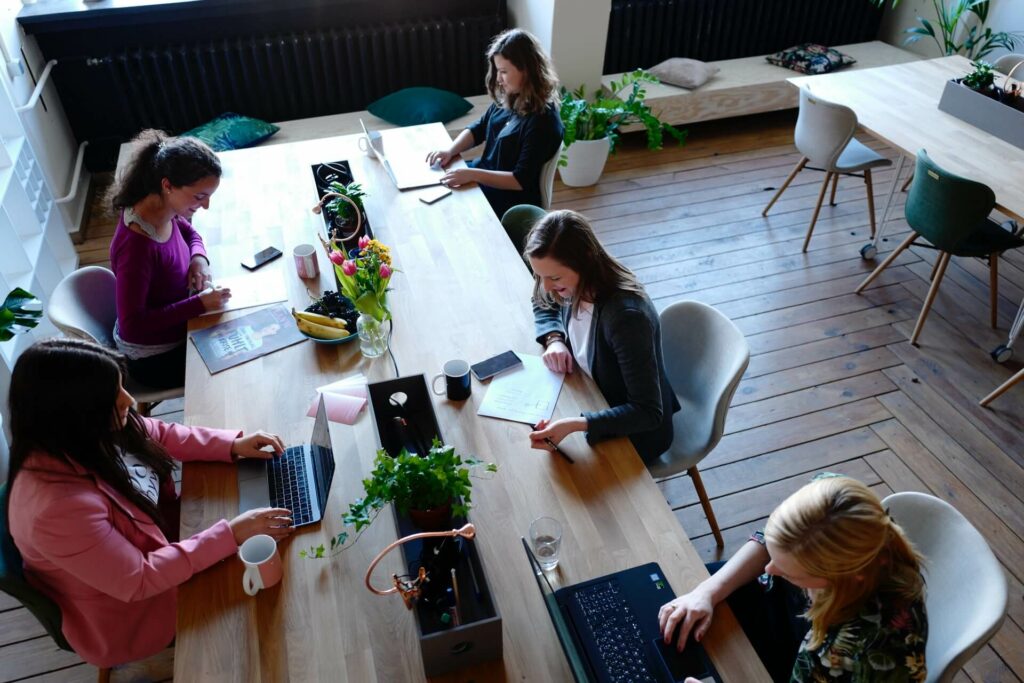 3. The advantages of coworking spaces
The continued development of coworking spaces in cities around the world is driven by a variety of factors. Some of them are economic, so the COVID-19 pandemic that shook things up, accelerates the trend of working from home, with the restrictions of social distancing curbing the return to the office.
Here is a summary of the main reasons why people like to use coworking spaces.
a. Flexibility:
Most coworking spaces don't require you to sign a long-term contract. This is a great solution for startups with a small startup budget, and even freelancers can find affordable options.
b. Sense of community
Coworking was created to help early web entrepreneurs escape the drudgery and isolation of working from home, but they are still social spaces by nature. A coworking space allows you to connect with like-minded professionals.
c. Productivity
Sharing a coworking space with a group of motivated and focused colleagues is a guaranteed way to improve your own productivity. It's almost impossible to slack off. You'll get a lot of results.
d. Cost reduction
As mentioned earlier, one of the main benefits of a coworking space is reduced costs. With different membership models, costs vary and allow for flexibility. They include daily fee or monthly fee options. Membership fees also vary depending on whether you use a shared office or want a dedicated office.
To discover more information about the benefits of coworking spaces, click here.
So, if you're curious about trying coworking, the best thing you can do is jump in. Whether you're a freelancer looking for a coworking space or a business looking for the perfect flexible office solution, Color Business Center has beautifully designed and adaptable workspaces for you.